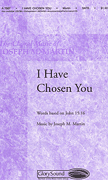 DOWNLOAD NOW AT
I Have Chosen You
Series: Shawnee Sacred
Publisher: Shawnee Press
Format: Softcover
Orchestra Accompaniment
Composer: Joseph M. Martin

This beautiful ballad expresses God's love for His chosen. We did not choose God, He chose us – whether for service as ministers or missionaries or simply to be His loving children. Our destiny was laid out before the dawn of time. "I Have Chosen You" paints a glorious picture of God's creation and orchestration of our lives and of His continuing guidance with a gentle hand. Written for the 40th anniversary of Pastor Buckner Fanning's ministry at Trinity Baptist Church in San Antonio, this anthem may be used to honor any and all of God's chosen ones as they begin or end their time in His service. Text based on John 15:16. Score and Parts (pno, fl 1-2, ob, cl 1-2, bn, hn 1-2, tpt 1-3, tbn 1-2, btbn/tba, timp, perc 1-2, hp, vn 1-2, va, vc, db) available as a digital download.
$50.00 (US)
Inventory #HL 35010108
UPC:
Publisher Code: LB5783

Prices and availability subject to change without notice.