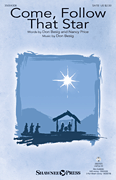 AUDIO DOWNLOAD
Come, Follow That Star
This item is currently on back order and expected in stock soon. You may place an order which will be filled as soon as the item arrives in stock.
Series: Shawnee Press
Publisher: Shawnee Press
Format: Octavo
SATB
Composers: Don Besig, Nancy Price

Uses: Christmas, Epiphany
Scripture: Matthew 2:1-2
This Epiphany anthem has been a best seller in both SATB and SAB voicings. Set in minor, the piece moves like a caravan from faith to joy, building texture and tone through vocal interaction. A minimalist accompaniment provides just the right touch to create the feel of a hopeful journey. Give this winner a place in your holiday and post-Christmas programming.
$2.50 (US)
Inventory #HL 35004308
UPC: 747510061847
Publisher Code: A6648
Width: 6.75"
Length: 10.5"
Run Time: 0:03:15
12 pages

Prices and availability subject to change without notice.